Egypt site helps build awareness about safety
By Liu Xuan | China Daily Global | Updated: 2020-06-18 10:02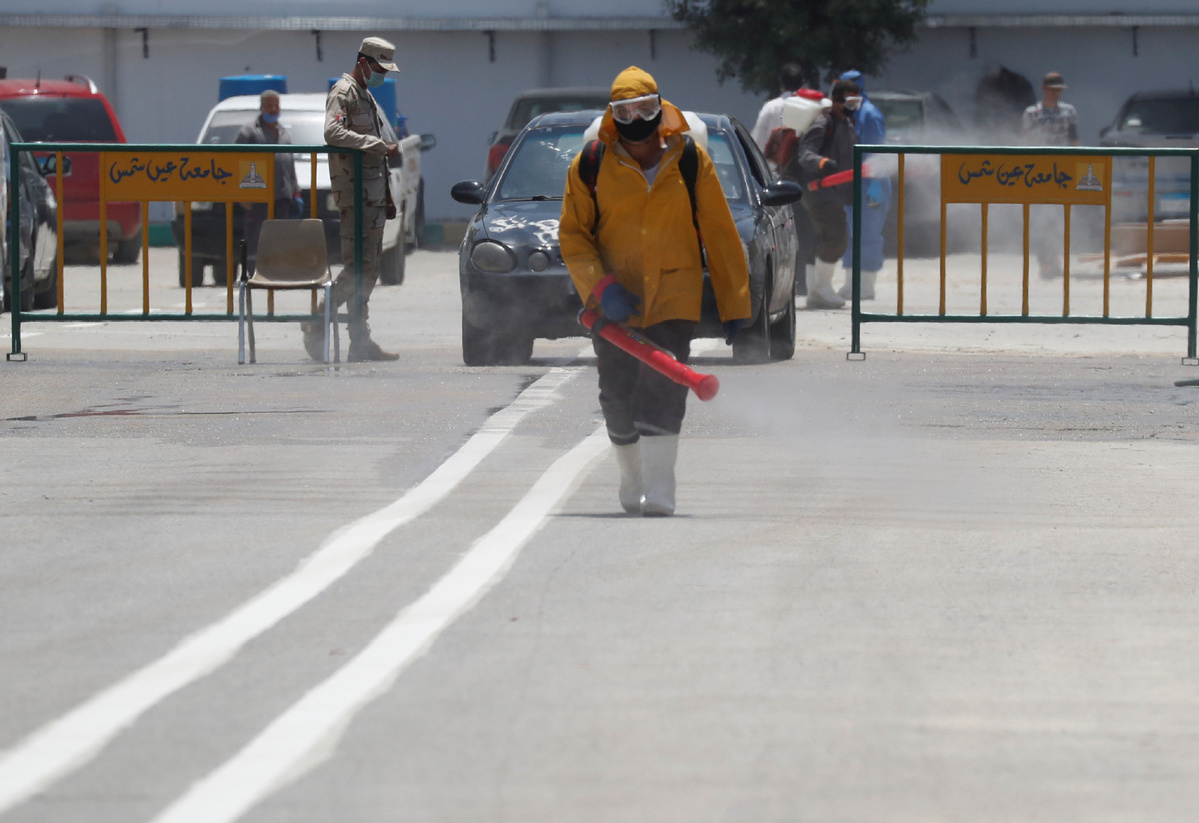 Editor's note: This news column showcases stories from around the world that bring a touch of positivity to the fight against the deadly coronavirus.
Egyptian kitchen helper Azuz Ayad has been living for almost three months in quarters at the construction site where he works-a sacrifice the father of three is making to help curb the spread of the novel coronavirus.
Working in the canteen of the construction site in a central business district in New Cairo, some 50 kilometers east of the Egyptian capital, Ayad and his two other Egyptian colleagues moved to the temporary lodgings on March 26 when the building project began to be fully enclosed to prevent the spread of COVID-19.
The project boasts a 385-meter skyscraper that is expected to become a new landmark for Egypt as well as the tallest building in Africa. It is being built by the China State Construction Engineering Corporation, or CSCEC.
The move to fully enclose the site means that managers and laborers alike-both Chinese and Egyptian-are required to live on the site. For those Egyptian engineers who were unable to do so, they have been working from home.
Although he hasn't been able to go back home, Ayad said he felt lucky as he could support his family as well as stay healthy.
"I still have a job here," he said. "I heard that many restaurants in Cairo have been closed."
With basic Arabic language and gestures, Ayad's Chinese colleagues have taught him how to wash his hands thoroughly and wear a face mask correctly. Through the posters that highlight the ways to prevent the spread of the virus, he has also learned how to protect himself from infection.
While the construction site has been Ayad's world over the past months, it's far from easy for others to enter it. Mohammed Amin, a supervising engineer responsible for overseeing complex engineering work, must go through a lengthy process before gaining clearance for a site visit.
He needed to apply in advance and gain approval from CSCEC before he could be waved in to conduct his inspection.
For most of the past months, the project departments and their supervision engineers have had to make do with the sharing photos of site work, along with online video chats.
Tough measures
For Amin, on the designated day of his visit, he got out of his car at the gate of the site, wearing a mask and gloves. Well-protected security personnel tested his body temperature, before he was allowed to get in another car-restricted to use on that site-for his inspections to begin.
"This virus is very contagious and dangerous, and it's good to see that CSCEC has implemented these prevention and control measures," he said.
"I also noticed that each construction worker maintains a safe distance with others while wearing a mask on site."
Cui Quan, a labor manager of the construction site, said the company instructs the Egyptian workers on how to prevent COVID-19 transmission and ensures their masks are changed for each shift.
Cui said the company has set up open-air prayer spots and personal prayer rooms for the Egyptian workers as well as providing entertainment facilities to help them get through the quarantine period.
So far, not even a suspected case has been logged on the site, said Chen Yuming, the head of the staff clinic at the CBD project.