'Ghost champion' Bayern left basking in an eerie afterglow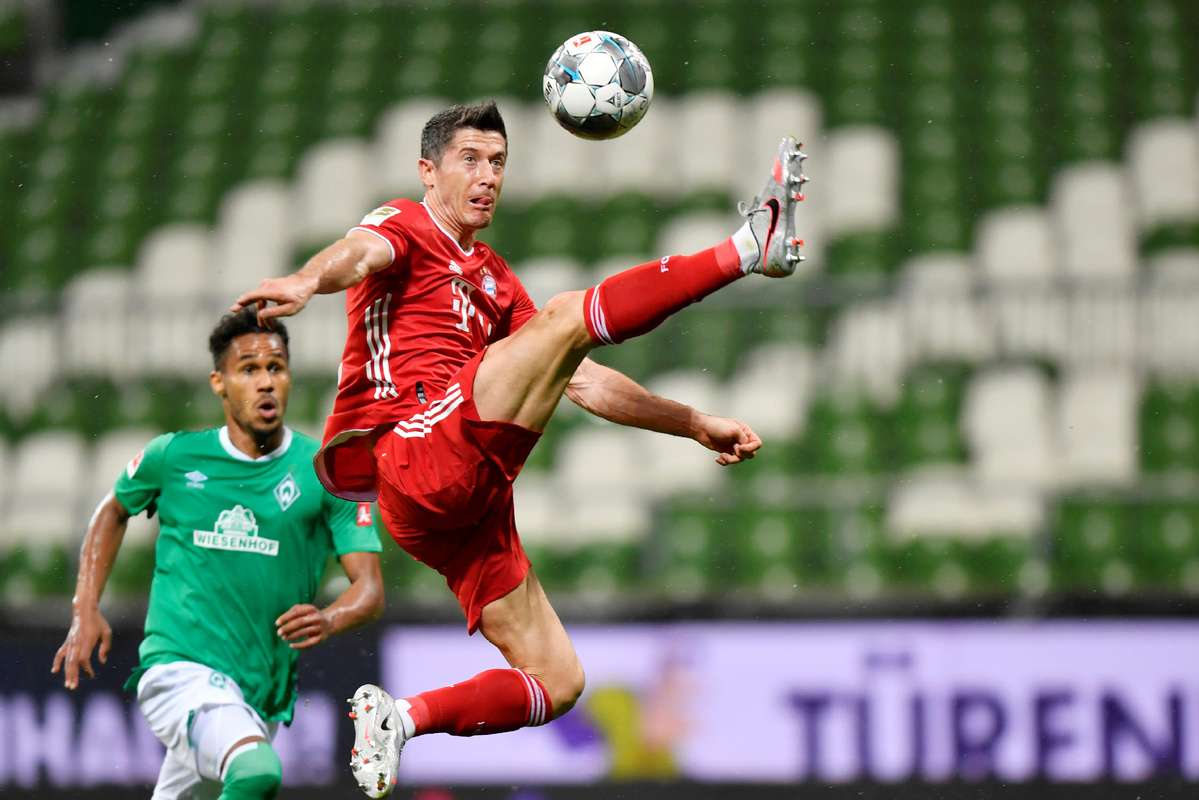 Passion of fans sorely missed for celebrations, admits goal hero Lewandowski
For the eighth straight year, Bayern Munich's players celebrated winning the Bundesliga title.
This celebration, though, was unlike any of the previous seven.
The players' cheers echoed around an empty stadium after a Robert Lewandowski strike earned a 1-0 win at Werder Bremen on Tuesday to secure the title with two rounds to go.
German media have dubbed the team the "Geister-Meister"-the ghost champion.
With no fans in the stands because of the coronavirus pandemic, it was a subdued and strange display of emotions as the players put on commemorative T-shirts and waved to their absent supporters.
"Celebrating without the fans is a bit complicated," Lewandowski told broadcaster Sky. "The atmosphere is missing and something else, not the motivation, but the passion from the fans.
"We are still very satisfied. It was not an easy season, we fought for the title for a long time. I hope that we can celebrate with the fans in the stadium soon."
The game which secured the title was anything but typical Bayern, which has made a habit of exuberant, high-scoring wins.
Bayern now has 30 top-flight German titles and Lewandowski added: "We have showed that we are the best team in Germany."
Lewandowski struck two minutes before the break with a brilliant low strike after controlling the ball on his chest, but Bayern endured a nervy final 11 minutes after teenage leftback Alphonso Davies was sent off for a second yellow card.
At the end of a first half dominated by Bremen's dogged defending and pouring rain, Bayern broke through when centerback Jerome Boateng chipped over the top for Lewandowski to score.
It was the Poland striker's 31st league goal of the season, a career best, keeping him on course to be named the league's top scorer for the fifth time.
Head coach Hansi Flick landed the Bundesliga title in his first season in charge having stepped in when Niko Kovac was fired last November.
Even the coronavirus lockdown could not stop Bayern's momentum, with the champion winning eight consecutive games in all competitions since the resumption of German soccer last month.
Flick, assistant coach when Germany won the 2014 World Cup, could land the treble as Bayern faces Bayer Leverkusen in the German Cup final on July 4.