Lion dance tradition roars back to life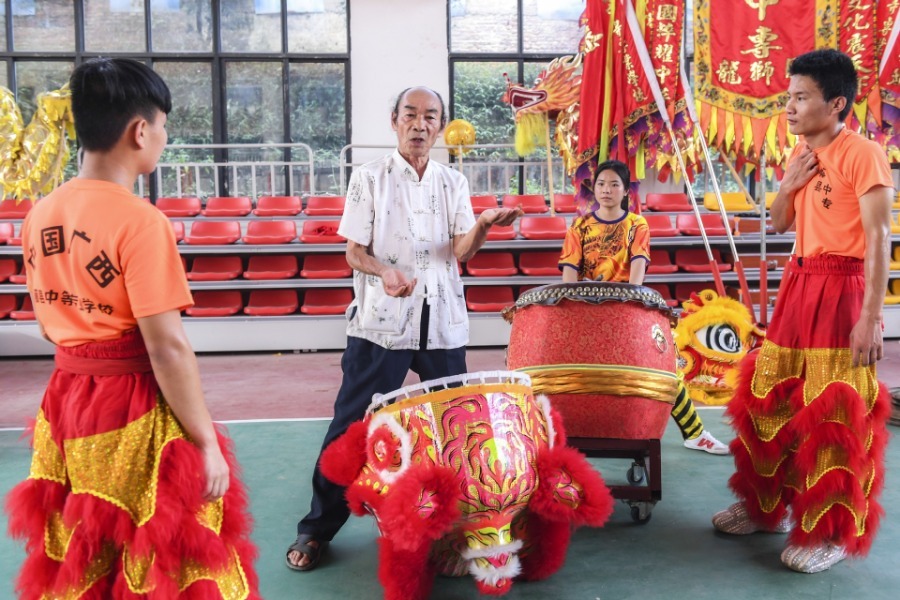 Wagging its head and tail, tweaking its ears and scratching its cheeks -- a scarlet "lion" was cavorting on the ground during its daily practice in Tengxian county, South China's Guangxi Zhuang autonomous region.
After performing the routine, two lads doffed the costume -- Qiu Haiwei, 17, who performed as the head of the red lion, and Huang Qingliang, 16, as the tail. Both are dance majors at the county's secondary vocational school.
The lion dance, a traditional Chinese performing art, is often staged for entertainment on festive occasions including Spring Festival. The tradition dates back to the Three Kingdoms Period (220-280 A.D.) and saw its heyday in the Southern and Northern Dynasties (420-589 A.D.).
The county's lion dance, which mimics a lion with martial and acrobatic styles, was listed as a national intangible cultural heritage in 2011.
"The lion dance has been an indispensable part of life in the county. In my childhood, whenever the beating of drums and clanging of gongs was heard, I knew the lion dance was on and rushed out to watch," Huang said.
"The lion leaped from pole to pole as if it were flying," Qiu recalled his memory of the performers' breathtaking skills.
Full of love and curiosity for the traditional art, the duo started learning the dance two years ago. Learning the performing art was another matter entirely.