Beijing gathering up its medical strength
Designated hospital receives support to battle new outbreak of coronavirus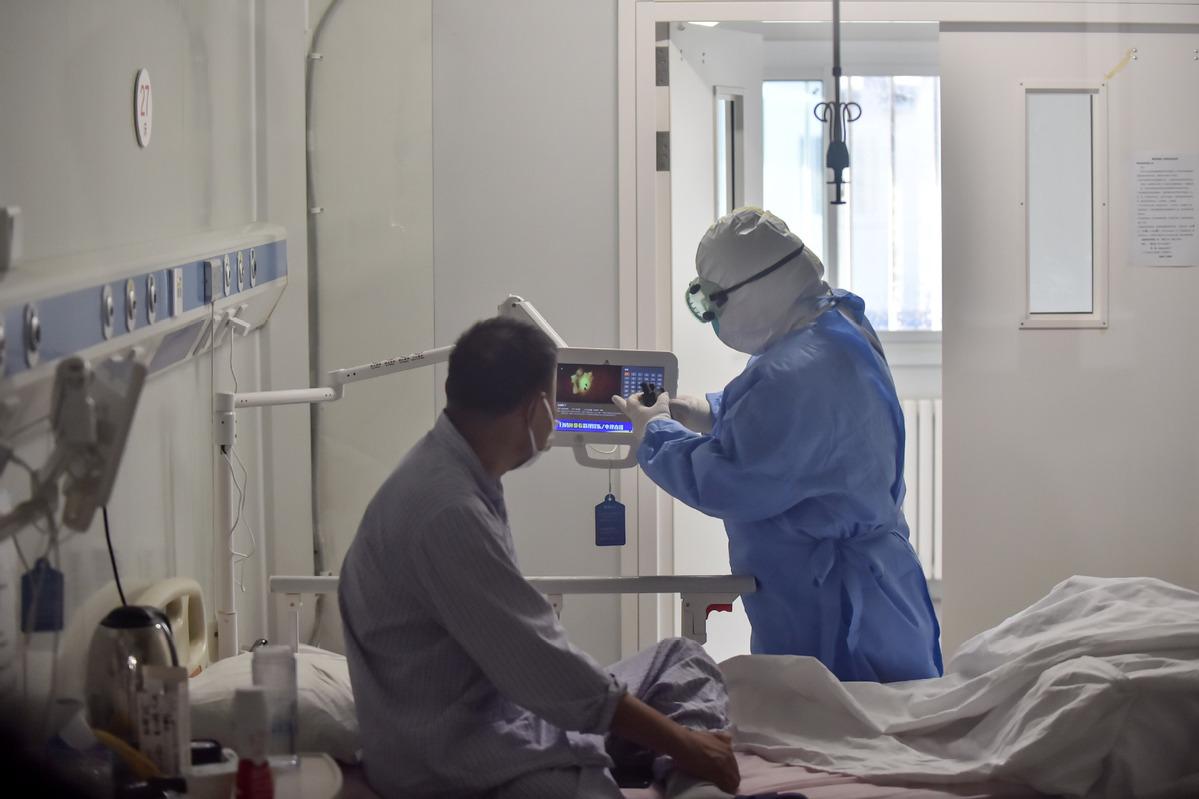 Beijing's designated hospital for treating COVID-19 cases has increased its medical strength to better treat patients, while other hospitals in the capital have sent medical teams to that hospital to join the fight.
Since Thursday, Beijing has reported over 100 new locally transmitted cases of the novel coronavirus, according to the Beijing Municipal Health Commission.
All the cases are being treated at Beijing Ditan Hospital in the capital's northeastern Chaoyang district, according to Beijing Daily. Affiliated to the Capital Medical University, the hospital is well-known for coping with infectious diseases.
Beijing Hospitals Authority dispatched 100 medical staff from 19 local hospitals to Beijing Ditan on Monday, including 24 doctors and 62 nurses, China Central Television reported.
Cui Yingying, a nurse with the Children's Hospital Affiliated to the Capital Institute of Pediatrics, was all prepared to take care of COVID-19 patients after a day's training at Beijing Ditan.
"With my previous experience, I hope I can do my best to take care of them," the 27-year-old said, adding she had worked over a month at Beijing Xiaotangshan Hospital during the first round of the COVID-19 outbreak.
She signed up for her second mission on Monday afternoon and on Tuesday received training on how to take care of COVID-19 patients and prevent transmission.
The Ditan hospital has increased ward areas for COVID-19 patients from two to six-four for treatment and the other two for screening, said the hospital's deputy director Wu Guoan, who was quoted by Beijing Daily.
As of Monday, most of the confirmed COVID-19 patients have been slight or common cases.
Ma Yanfang, director of the hospital's medical affairs department, said most of the patients are "relatively young".
The hot weather the capital has been experiencing in recent days has posed challenges for the medical staff, with the highest temperature in a day reaching about 35 C.
According to Ma, one of the requirements for joining the fight is "being able to work under high temperatures".
"Our clothes were wet with sweat when we walked out of the wards," Cui said, adding they must wear stuffy protective suits in isolated wards to avoid transmission.
The Beijing Cancer Hospital also sent a medical team of eight, and Beijing Shijitan Hospital sent a nine-member team, including six paramedics, to Beijing Ditan on Tuesday morning.
Among the Beijing Shijitan team members, two are a couple who had planned to marry and hold a ceremony during the upcoming Dragon Boat Festival, which will fall on June 25.
But they decided to delay the wedding and voluntarily signed up for the team to join the current fight.
Further, Beijing Tongren Hospital sent three medical staff, while Xuanwu Hospital Capital Medical University sent a team of six to Beijing Ditan on Tuesday morning, including some who had just returned from there days ago.
Xin Wen contributed to this story.